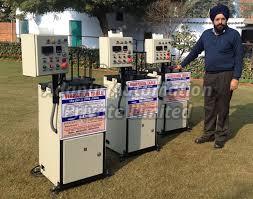 Gone are those days when the machines were operated either manually or mechanically. Now due to the advent of automation, a plethora of machines are operated by a computer program. The criterion under which a machine functions as per the commands provided by the computer program is called Computer Numeric Control. These machines can efficiently work with different types of materials like wood, aluminium, stainless steel, brass, copper, and much more. Different types of machine parts like nuts, bolts, stampings, etc. can be machined with the aid of CNC machines. Many crucial aspects like speed, frequency, depth of cut, etc. can be controlled by the computer program.
A number of benefits are attracted by employing a CNC machines for manufacturing various types of components. These benefits are as follows-
High accuracy in the manufacturing process

Reduced production time

Flexibility in operations as different aspects of the functioning of the machine can be altered by changing the settings of the computer program

Reduced scope of human error

Less Wastage

Reduced Operational Cost

Reduced Labor

Excellent Performance

Reliability
Today, most of the manufacturing units incorporate the milling machines fortified with the technology of CNC. The CNC milling machine executes the task of both drilling and turning. Milling involves the use of a spinning the cylindrical cutting tool that is able to attain many of the maneuvers. CNC mills are cataloged according to the number of axis and the cutter in a milling machine is able to move by multiple axes that are conventionally automated using prearranged codes that signify certain tasks and are capable of creating many forms, slots and holes. Adding on, the workpiece is moved across the milling tool in diverse tracks, distinctive from the single axis motion of a drill.
To achieve a high pedestal in their domain, the CNC milling machine manufacturers should take in account the following crucial attributes:
The manufacturers in India should make use of the authentic grade components and updated techniques for the production of the CNC milling machines.

They should ensure that the machines hold long functional value with smooth functioning and robust structure.

Proper machine tools must be chosen for different material in order to obviate possible glitches.

A team of adept professionals should be employed who undertake the whole process including packaging to installing the machine for the convenience of the client.

Prices should be cost-effective in order to expand the export.

The manufacturers should provide lifetime maintenance services in order to attain long term clientele.
Thus, to give a candid statement, we can state that CNC milling machine manufacturers in India have cemented their position as eminent producers who have excelled rapidly in the domain by delivering extensive products and creating a list of long term clients.