Factors Involving Reconditioning Of Machines
Posted by Admin on April, 28, 2020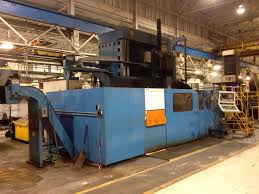 Owning a factory and manufacturing products without any interruption can be tasking and stressful. This is especially true when you have your machines need to be maintained to ensure that your production does not stop. But changing machines can become expensive and add to your cost. Hence, getting your machines reconditioned is the best choice.

There are specialized service providers who recondition machines at a reasonable price make it look brand new. You can a reconditioning service provider near you for getting your machine work in perfect condition.
However, you need to know the factors that involve in the reconditioning of machines.

What do you Understand by Reconditioning?
Reconditioning of a machine means restoring your old machine to its new and original form. In this process, the internal and external parts of the machines are fixed and replaced. The parts used in reconditioning don\'t need to be brand new. They could also be second hand, but the condition of these parts is equivalent to new parts. Before making any changes in the machine, the professionals check the machine thoroughly and then make the changes accordingly.

What Should you Expect from the Service Centre?
Your machine is very important for the production and growth of your company. Hence, the reconditioning service provider must offer quality service. The provider should be able to provide you services at a reasonable price. This is necessary if you want to save some money. When you choose a service provider that is providing reconditioning of machines at the cost of a new one, then you are wasting your money. Also, the provider should have the experience and knowledge of reconditioning different kinds of machines.

They should also have the latest technology for speedy and efficient work. When you are reconditioning machines, then you should consider its "new condition" as a guarantee. Reconditioned machines do not have a written guarantee like a new one. But if the provider is good and experience, then your machine will last for long.

When Should you get your Machine Reconditioned?
If your machine has a broken part, then you do not have to get the whole machine reconditioned. You simply need to replace the broken part. However, if your machine is rusting and has multiple issues or makes noises, then it is the right time to get it reconditioned. The cost of reconditioning depends on how soon you get it to the service provider. The more delay you do to send it for refurbishment, the more it will cost you.

You can also plan to get the machine refurbished if you want to sell the machine. Small companies prefer taking reconditioned machines rather than new ones to save money. Hence, it is best to get your machine reconditioned before putting it up on sale.

If you are looking at saving money and want to reuse the machine, then you should consider getting in touch with a reconditioning service provider in Maharashtra. The service provider can make your machine as good as new and also save your money.
This entry was posted on April, 28, 2020 at 13 : 50 pm and is filed under Reconditioning Services. You can follow any responses to this entry through the RSS 2.0 feed. You can leave a response from your own site.